Alan Redley (Chair) 
My business career gave me extensive board level experience as Vice President / Chief Operating Officer of a company in California and as head of an international commercial group.  Prior to that I was responsible for maintenance and operations of large chemical plants in the UK.  I have an honours degree in Engineering with Operational Research and am a Chartered Engineer.  I am a past Governor and Chair of Sir John Deane's Sixth Form College and am currently Chair of Trustees and a Member of the Sir John Brunner Foundation, where I aim to use my business experience to support establishment and development of the Trust.
Liz Bromley (Vice Chair)
I was born in Lach Dennis and attended Northwich Girls' Grammar School before joining Sir John Deane's Sixth Form College as part of the first intake of girls to the lower sixth. Going on to study English at Oxford, I had a long career working in Higher Education, specialising in delivering an excellent student experience. I have three daughters, a son, a step son and one granddaughter. I live in Davenham and am the former deputy vice chancellor at the University of Central Lancashire and now CEO of NCG.
Richard Donovan (Vice Chair)
I am General Manager at ESL Fuels Ltd and run the business at both a strategic and operational level.  I have previously held senior finance positions at SME and multinational organisations with the roles taking me around Europe and the Americas, including nine months living in Oklahoma, USA, integrating an acquisition.  I am a Chartered Global Management Accountant, have a BSc (Hons) degree in Mathematics from the University of York and went to Sandbach School.  My wife and I have two sons, the eldest of which is just starting his journey in education.  I enjoy most sports and regularly play football and badminton.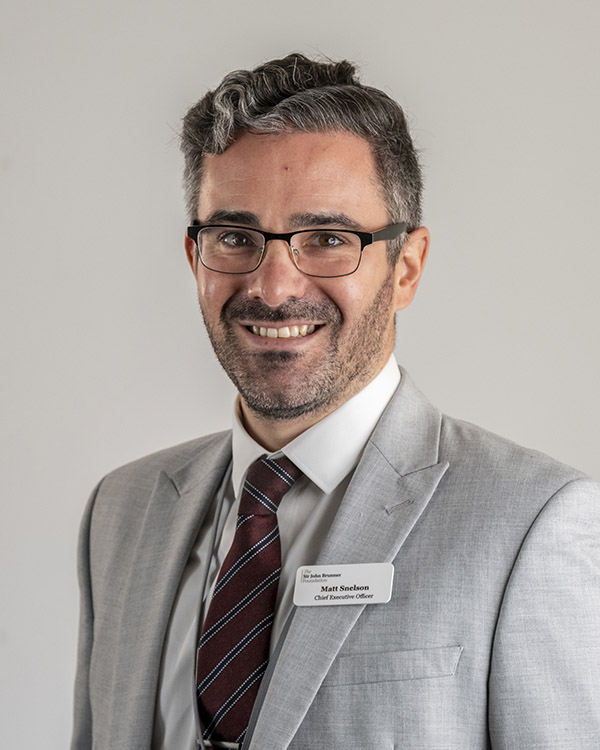 Matt Snelson (Chief Executive Officer of the Sir John Brunner Foundation)
I attended Sandbach School prior to studying Economics and Politics at Loughborough University. Following the completion of my PGCE in Economics, Business Studies and Information Technologies at Manchester Metropolitan University, I commenced my teaching career at The County High School Leftwich as a Newly Qualified Teacher. Over the next decade, a variety of leadership positions within the school, led me to becoming Principal.  As Principal, I led the school in maintaining the Outstanding judgement during the April 2022 Ofsted Inspection.   In August 2022, I was appointed to Chief Executive Officer of The Sir John Brunner Foundation, where I continue my vocation of being a leader in education. I am passionate about quality education and providing every child the opportunity to achieve their academic potential. I use my knowledge to volunteer as a Trustee of a Secondary School in Cheshire East.  I am married with two children.
Kevin Neary
I am the co-founder and former Managing Director of the GameStop Group in Ireland and UK, originally Gamesworld Ltd. I led GameStop Ireland and UK from start up in 1994 to its market leading position as the largest video game retailer within Ireland in 2011 with a peak market valuation of €100m and its sale to GameStop Corp. I have mentored and invested in several companies including Demonware and Jolt Online Games. I have a Masters of Philosophy in Entrepreneurship, am a Charted Director and former Non Executive Director of the Board of the Institute of Directors of Ireland, where I also sat on the Finance and Corporate Governance Committee and the Strategic Development Committee.  I am also an investor/Non Executive Director/Chairman of several private companies in the UK and Ireland.
Joanne Hyslop
I was born in Hartford and attended Hartford High School and Sir John Deane's College. I went on to study for a BEd Hons at Liverpool Hope Univeristy College and began my teaching career at a primary school in Runcorn. I later moved to Davenham Church of England Primary School where I subseqently became the Deputy Headteacher and more recently the Headteacher. I am passionate about education and particularly about the work of church schools.  I currently support the Diocese of Chester with Keeping on Track visits and am a trained SIAMS Inspector. I have a son who attended The County High School Leftwich and later Sir John Deane's College. In my spare time I enjoy travelling with my partner. 
Natasha Kirsten
I qualified as a solicitor in 2001 with Thrings solicitors and worked in their company commercial department until taking a career break to look after my five children.  Since 2011 I have worked in a number of company secretarial, governance and in-house solicitor roles and have completed an icsa qualification.  I have held a number of voluntary positions on pre-school committees, a gym club and the RAF cadets.  I live near Northwich with my husband, parents, children and a golden retriever called Tansy.
Carl Lee
I have always lived and worked in Cheshire and therefore I appreciate the importance of ensuring the region has quality candidates to drive our industry and arts. I went to school at North Cestrian Grammar in Altrincham and then onto study business studies at Sheffield Polytechnic.  After finishing my studies in Sheffield, I moved back to  Cheshire and undertook a career in accountancy, qualifying as a Chartered Management Accountant in 1991. I have worked for nearly 30 years in Northwich at Nalco, and latterly Ecolab, as a Finance Director for the UK, Ireland and Nordic countries.  As a trustee, I wish to utilise my experience, gained in the business world, to support the Foundation develop and flourish, enabling it to provide the children of the area with the best platform to start their academic and working lives.
Chris Penter
I graduated from Nottingham University with a BEd and also hold an MA from Newcastle University and an advanced diploma in International Leadership Consultancy from Manchester University.  I have spent over forty years in education with fifteen as headteacher of an Ofsted 'Outstanding' Secondary School. This was followed by a spell as a Deputy Director of Inspections working with Ofsted and six years as Director of Education with Nord Anglia International Schools. I have also lectured on post graduate and educational leadership (NPQH) programmes at Manchester University. I am an old boy of Sir John Deane's Grammar School and until recently was Chair of Governors at The County High School, Leftwich. I am married and retired and spend a good deal of time working in the community and charity fundraising through public speaking.
MEMBERS
Julie Brandreth, MBE 
My teaching career commenced in September 1983 and concluded in August 2019 when I retired from my headship of a local secondary school.  I have taught across the 11-18 age, ability and socio-economic range in seven schools, three in the Independent and four in the State sector. I have a Masters in Business Administration (Educational Management) and a keen interest in ongoing school improvement and how to manage that process.  I am Chair of the Governing Body of a Cheshire primary school, Vice Chair of the Governing Body at a local secondary school and a Governor in a Sixth Form College.  I can thereby offer experience and understanding of governance at primary, secondary and post-16, as well as knowledge and understanding of academisation, accountability processes, strategic planning and translating policy into practical reality, working with and engaging a variety of stakeholders in the local and wider community.
Alan Redley (see Chair of Trustees)
Doug Shingler (ex-officio as Chair of the Foundation Scheme Governors) 
I served for 29 years as an aircraft engineer in the Royal Navy, followed by 10 years as a Technical Officer with the Meat and Livestock Commission. I was appointed to the Governing Body of Weaverham High School in 2001 and remained a Governor until 2013. Having been elected to Vale Royal Borough Council in 2003, I was appointed to represent the Council on the Sir John Deane's Foundation, the charitable body which owns the college site and manages various charitable legacies, in July 2007.  In the same year I also had the great privilege of being Mayor Of Vale Royal. In 2009, on the demise of VRBC, I was elected a cooperative member of the Foundation Board, following which I was elected its Vice Chairman in October 2011 and Chairman in October 2012, a post which I still hold.
Jane Staley
I have been a governor at both Weaverham High School and Sir John Deane's Sixth Form College and have close links to Kingsmead Primary School.  Both of my daughters attended Sir John Deane's Sixth Form College and have gone on to study journalism and architectural engineering at Winchester and Leeds respectively. My career has spanned both the private and charitable sectors and has allowed me to build up a variety of skills and knowledge.